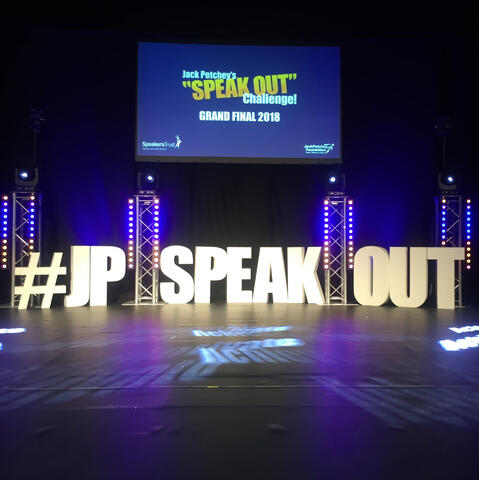 Hello
The 2020 Jack Petchey's "Speak Out" Challenge! Grand Final is now complete - but you can watch a rerun below
The Journey
Each year, twenty thousand young people start on thier own personal journey to build the confidence to speak on issues that matter to them. We provide workshops, learning resources and events. Watch the journey that our finalists have been on or visit our website
Updates
All our updates will be available on our social media - please use #JPSpeakOut to share your experience and promote the event.
Audience Impact Award
Following a huge response from our audience, we are delighted to announce that Honey Scott of Hedingham School and Sixth Form has won our inaugural Audience Impact Award. To view her speech, hit play below.
Winning Speech
Congratulations to Maddeline who became 2020 Grand Final Champion on 1st December 2020 - watch her winning speech below
Meet the Grand Finalists
This year fourteen young people will share their messages at the Grand Final. Each of them speaks with passion, some for social and political change, and some speak out about their personal experiences. One will be crowned Grand Champion 2020.
Let's meet them.
Meet the Grand Final Judges
All fourteen finalists are extremely qualified speakers, but only one can become Grand Champion. We have a panel of esteemed judges, each bringing their own unique perspective on the importance of speaking out in order to crown the Champion.
Let's meet them.